Vielen Dank für Eure Verlinkungen beim 3. Quartal von Made for boys. Das macht mich immer glücklich. Im Moment fehlt mir leider die Zeit zu nähen, aber ich bewundere Eure Beiträge. Nachdem mich das Leben 1.0 gerade so im Griff hat, geht die Party leider erst heute los. Aber bis Weihnachten wird sicher noch viel entstehen und so freue ich mich sehr, dass es hier weiter geht.

Nun eröffne ich die neue Party:
Worum geht es bei der Linkparty?
Um Jungs. Egal ob Kleidung wie Hosen, Shirts, Jacken, Outdoorkleidung, Spielsachen, nützliches z.B. für Kindergarten und Schule oder Deko für's Kinderzimmer. Es kann genäht sein oder auf andere Weise selbst gemacht. Es kann für große oder kleine Jungs gemacht worden sein. Ganz egal. Wichtig ist nur, dass es für Jungs ist. Denn die kommen in der DIY Szene eh oft zu kurz. Und gerade bei den Jungs freue ich ich mich immer über tolle Ideen, Schnitte, Möglichkeiten zum jungsgerechten Pimpen etc. Deshalb hoffe ich, dass mit der Zeit eine schöne Sammlung entstehen wird.
Die Partyregeln
Die Regeln sind einfach:
Du darfst Dein Projekt zeigen, wenn es für Jungs gemacht wurde und selbstgemacht ist. Es darf genäht, gestrickt, gehäkelt und geplottet oder bestickt sein. Wichtig ist nur, dass der Empfänger ein Junge ist.
Auch Gewinnspiele, Ergebnisse aus Probenähen etc. sind erlaubt.
Bitte verzichtet auf kommerzielle Werbung.
Du musst auf den einzelnen Blogbeitrag (und nicht auf die Startseite Deines Blogs) verlinken.
Der Beitrag sollte aus der aktuellen Woche sein.
Selbstverständlich dürft Ihr nur Bilder verlinken, deren Rechte Ihr auch habt (die Ihr selbst gemacht habt oder für die Ihr das Nutzungsrecht zur Veröffentlichung habt und die keine weiteren Rechte verletzen).
Bitte denkt an den Backlink auf http://www.sewing-elch.de so dass auch andere diese neue Linkparty entdecken. Denn nur, wenn sie auch benutzt wird, wird sie irgendwann zu dem Ideenpool, den ich mir vorstelle.
Gerne dürft Ihr Werbung machen. Ich freue mich auch, wenn Ihr den Button mitnehmt. Dazu klickt Ihr einfach auf das Bildchen: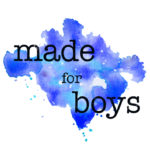 Wie funktioniert es?
made for boys ist eine Linkparty für Werke für Jungs und wird über das Verlinkungstool Inlinkz organisiert.
Ihr müsst nur unter den Bildchen "add your link" anklicken. Da gibt Ihr dann in der ersten Zeile Euren Link auf den Beitrag ein. In der zweiten könnt Ihr Euren Titel wählen – das ist das, was später unterhalb Eures kleinen Bildchens zu sehen sein wird. In der dritten Zeile müsst Ihr Eure Mailadresse eintragen, aber keine Sorge: Das sieht außer mir niemand. Dann wählt Ihr noch Eurer Foto, vergrößert oder verschiebt den Ausschnitt und das war es dann auch schon – Euer Bild landet in der Linkparty.
Die Party ist jeweils bis zum Quartalsende offen. Danach geht es dann in einer neuen Party weiter.
Die neuesten Links sind immer oben in der Liste – es lohnt sich also, wenn Ihr immer wieder vorbeischaut. Bitte klickt auch auf andere Beiträge und kommentiert dort auch, denn seien wir ehrlich: Kommentare lieben wir doch alle, oder?
Und was ist mit Facebooknutzern?
Auch Facebookbeiträge können verlinkt werden. Zumindest, wenn der jeweilige Beitrag öffentlich ist. Und das geht so:
Da Ihr ja keine URL habt, benötigt Ihr den Permalink des Beitrags. Dafür müsst Ihr bei Facebook das Datum unter Eurem Post anklicken und dann im Browser die URL kopieren.
In der Eingabemaske, die sich öffnet, nachdem Ihr auf "Add your link" geklickt habt, müsst Ihr in das erste Feld den Link einfügen, den ihr gerade auf Eurer Seite kopiert habt. In der Zeile darunter gebt Ihr den Titel des Links an und in der letzten Zeile Eure E-Mailadresse. Auch hier gilt: Die sehe nur ich.
Jetzt geht es los: made for boys:
Viel Spaß beim Verlinken! Haut rein, ich freue mich über Eure Partyteilnahme.
You are invited to the Inlinkz link party!
Viele weitere Linkpartys findet Ihr in meiner Linkparty Sammlung